Kunde: Thomas Buban e.K. (Stuttgart / Gerlingen)
Aufgaben: Konzept und Gestaltung | Relaunch Corporate Design | Grafik Design | Illustration | Fotografie | Webdesign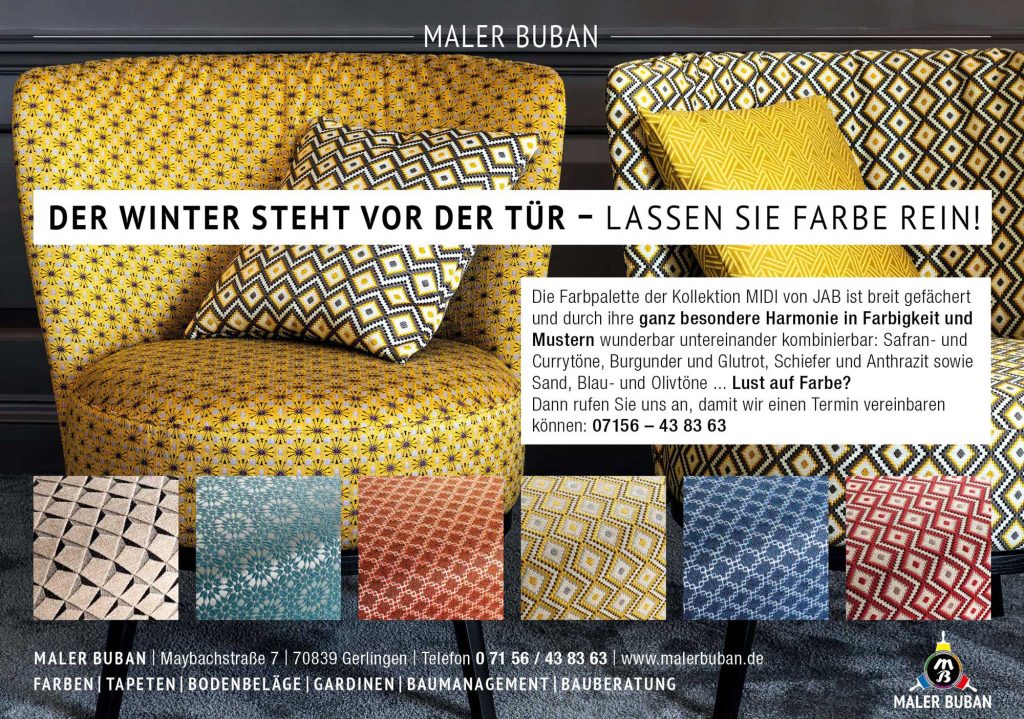 Für Maler Buban, Malerbetrieb und Raumgestalter in der dritten Generation, arbeite ich seit vielen Jahren in allen Bereichen der Gestaltung: Grafik Design, Fotografie und Webdesign – von sensiblem Logo-Relaunch über Anzeigen, Mailings bis hin zu Produktmappen und Katalogen für feine Möbel, Stoffe und Teppiche, die es bei Maler Buban auch gibt. Bubans leben Ihren Slogan »Handwerkstradition plus moderne Lösungskonzepte« auch in unserer Zusammenarbeit.
Client: Thomas Buban e. K. (Stuttgart / Gerlingen)
Project Brief: Concept and Design | Relaunch Corporate Design | Graphic Design | Illustration | Photography | Webdesign
For the Painting company Buban, third-generation painters and decorators, I have been working for many years in all areas of design: graphic design, photography and web design – from sensitive logo relaunches to advertisements, mailings and product folders and catalogues for fine furniture, fabrics and carpets, which are also available at Maler Buban. Bubans live their slogan "craft tradition plus modern solution concepts" also in our cooperation.