Kunde: Angela Fasig, A-form fasig gmbh (Stuttgart, D)
Aufgaben: Informationsarchitektur | Webdesign | Corporate Design | Grafik Design | Bildbearbeitung | Illustration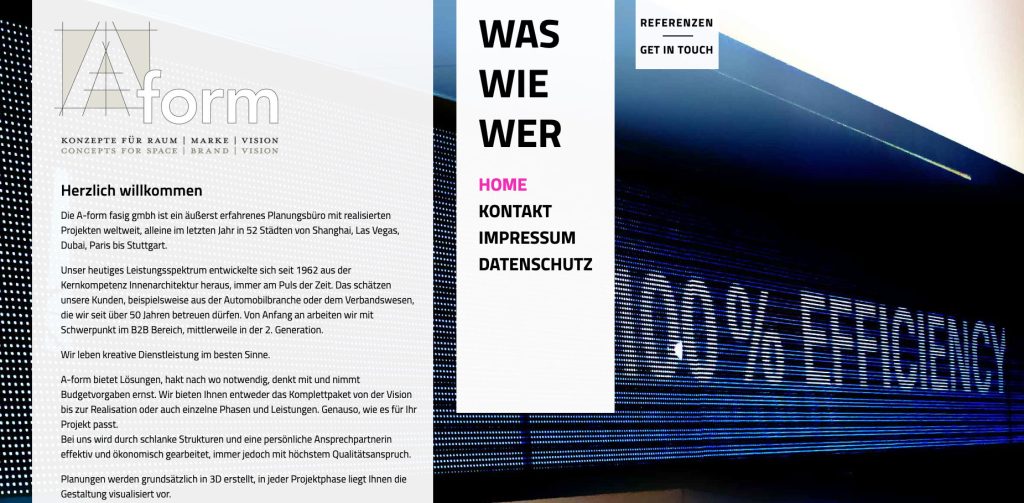 Wenn man seine Nebensitzerin aus der Schule Jahrzehnte später wieder trifft und sie inzwischen ein Planungsbüro für Ausstellungsdesign und Innenarchitektur hat, aber keine Webseite, kann man das Glück haben, diese konzipieren und gestalten zu dürfen. Und nicht nur das: Angela Fasig ließ mir bei dieser Arbeit voller Vertrauen freie Hand. Sie war auch früher schon großzügig und hat mich immer abschreiben lassen. Jedenfalls hat es total Spaß gemacht, diese Webseite mit ihren vielfältigen Seitenbildern für das vielfältige Angebot von A-form zu gestalten.
Client: Angela Fasig, A-form fasig gmbh (Stuttgart, D)
Project Brief: Information Architecture | Web Design | Corporate Design | Graphic Design | Edit | Illustration
When you meet your old school neighbour again decades later and she has a planning office for exhibition design and interior architecture in the meantime, you can be lucky enough to get beautiful commissions. And not only that: Angela Fasig gave me a free hand in the conception and design of the website, full of trust. She was also generous in the past and always let me copy schoolwork. In any case, it was a lot of fun to design this site and to create all the page images for A-form's diverse range of offers.